Living Coral Wedding Photos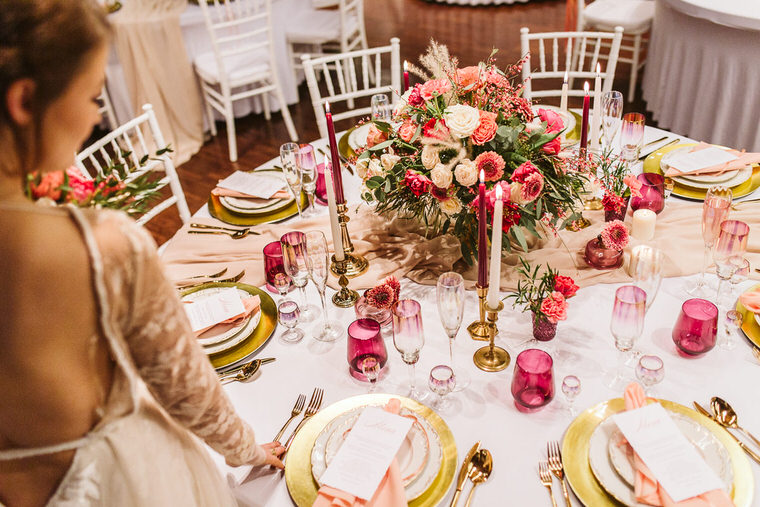 The stylized wedding session is increasingly included in ready-made presentations and studies involved in the preparation of the wedding and reception. They are one kind of inspiration when organizing weddings for Brides and at the same time an opportunity to integrate local companies of wedding history! 
This time we met in Przerwa Event & Catering in Lodz and we came from all over Poland because apart from representatives of the wedding industry from the Lodz region we came from the Gdansk, Warsaw Radom and Rzeszów. The whole was coordinated by wedding planers – Gotowe na Slub – Anna and Aleksandra Ułańskie.
Pastel decorations for the wedding at Przerwa Design in Lodz
The theme of our session was the Living Coral wedding announced by Pantone® as the main color in fashion in 2019. On the round and rectangular table pastel colors broke with Flemish red and dignified gold. The whole miraculously matches the romantic and glamor style of the wedding. The wedding stationery ideally suited the central theme and color of the wedding reception.
Pastel wedding dress 2019 in a different color than white
Subtlety is a strong common denominator of this session. That is why wedding planners from Lodz decided to find a unique wedding dress. These searches led them all the way to the Gdansk to the Renata salon. The perfect pastel color of the wedding dress completed the sensual beauty of the Bride who came to Norway from the sessions! A navy blue suit with a delicate pattern from Giacomo Conti matched the colors of the session.
Wedding dress in a shade matching the color of living coral, flowers for tables, floristic setting, stationery and accessories which together creates the arrangement of the wedding table is a whole, at which you can experiment with colors. Living Coral Pantone® fits the theme of a romantic wedding and glamor. This color was also included in the second arrangement of this stylized session combining it with a tropical theme and greenery.
Contact me by form below to get destination wedding photography offer.
I am based in Poland – available to shoot worldwide.

Phone +48 888167956
Email: biuro@thisday.pl


[ninja_forms id=3]
Wedding companies involved in the creation of a stylized session: